PMAG 30 AUS Gen M3 Window Steyr AUG 5.56 30 Round Polymer Magazine - Black - Magpul
---
---
---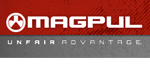 Manufacturer MPN:

Magpul MAG575
UPC:
873750001265
Weight:
0.50
pounds
Check Restrictions
---
---
Product Description
The PMAG 30 AUS GEN M3 Window - Steyr AUG is a 30-round 5.56x45 NATO polymer magazine for Steyr AUG/F88/F90 compatible weapons that features transparent windows to allow rapid visual identification of approximate number of rounds remaining. Made in U.S.A.
Similar to the GEN M3 PMAG for the AR15/M4, the PMAG 30 AUS features a long-life USGI-spec stainless steel spring, four-way anti-tilt follower and constant-curve internal geometry for reliable feeding, and simple tool-less disassembly to ease cleaning. In addition, low profile ribs and aggressive front and rear texture gives positive control in all environments, and a paint pen dot matrix has been added to the bottom panel of the body to allow easy marking by the end user for identification. The easy to disassemble GEN M3 flared floorplate aids in extraction and handling, and is slimmer than factory Steyr floorplates for better fit in magazine pouches.
The dot matrix marking system on Magpul's line of AR15 magazines are intended for users to mark out alphanumeric characters on their mags in a standardized, modern, customizable way. These magazines offer four 3 x 5 matrices on each side of the magazine. If each matric is used for 1 alphanumeric character, this allows for 8 individual characters to be written on a single magazine. Pistol magazines, like their Glock 9mm line, offer only two 3 x 5 matrices per mag.
Durable, dual-side transparent windows allow for quick determination of approximate number of rounds remaining in the magazine. Utilizing a high visibility indicator coil on the spring and numerical markers on the magazine body, the MagLevel system provides positive verification with the added benefit over translucent magazines of displaying round-count even when the cartridge stack is obscured within the magwell.
Caliber: 5.56 x 45
Capacity: 30 rounds
Finish: Black
Material: Polymer
Platform: AUG
Fits: Mil-issue Steyr AUG, F88 Austeyr, and F90
**Does NOT fit the AUG NATO conversion
FEATURES:
Next-generation impact and crush resistant polymer construction
Designed specifically for Mil-issue Steyr AUG, F88 Austeyr, and F90
Modified dimensions provide a slimmer footprint than factory Steyr magazines
Constant-curve internal geometry for smooth feeding
Anti-tilt, self-lubricating follower for increased reliability
Long life USGI-spec stainless steel spring, black-oxide coated (MIL-DTL-13924D)
Anti-glare translucent MagLevel windows on both sides of the body along with a painted indicator on the spring allows for easy determination of rounds remaining from 1 to 30
Over-travel insertion stop on the spine
Ribbed gripping surface and aggressive front and rear texture for positive magazine handling
Paint pen dot matrix panels on the bottom of the body to allow for identification marking
Flared floorplate aids magazine handling and disassembly yet is slim enough for use with many mag pouches