PMAG 5 AC L Standard .30-06 Bolt-Action 5 Round Magazine - Black - Magpul
---
---
---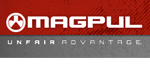 Manufacturer MPN:

Magpul MAG671
UPC:
840815109655
Weight:
0.50
pounds
Check Restrictions
---
---
Product Description
The PMAG 5 AC L, Standard is a reliable and durable polymer magazine for .30-06 based-family of cartridges and is compatible with long action AICS-spec bottom metal, to include the Bolt Action Magazine Well 700L for the Hunter 700L Stock. Made in the USA
Built using M3 technology, this magazine is advanced in both material and manufacturing processes providing an economical, lightweight, durable and reliable single-stack bolt action magazine. It comes standard as a 5-round capacity magazine for hunting regulation compliance, but the follower can be easily modified by the user to increase the capacity to six rounds for field, competition, or combat use.
The upgraded GEN M3 long action AICS magazine has the ability to add a sixth round. The impact and crush resistant polymer construction, a long-life stainless-steel spring, and the flared floorplate all ensure reliability. Utilize the paint pen dot matrix to easily identify magazines with different loadouts.
Compatible with long action AICS (Accuracy International Chassis Systems) pattern bottom metal and cartridges built on a 0.470" case head such as .30-06 Springfield, .25-06 Remington, .270 Winchester, .280 Remington, 8mm-06, and others. Magazine accepts a catridge overall length of up to 3.50"
Caliber: .30-06
Platform: Bolt-Action
Capacity: 5 rounds
Finish: Black
Material: Polymer
Fits: Long action AICS (Accuracy International Chassis Systems) pattern bottom metal and cartridges built on a 0.470" case head such as .30-06 Springfield, .25-06 Remington, .270 Winchester, .280 Remington, 8mm-06, and others
NOTE: Not recommended for use with short action cartridges such as the 7.62x51/.308 Winchester