PMAG 5 AC L AICS Magnum .300WM 5 Round Magazine - Black - Magpul
---
---
---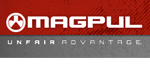 Manufacturer MPN:

Magpul MAG698
UPC:
840815109822
Weight:
0.50
pounds
Check Restrictions
---
---
Product Description
The PMAG 5 AC L, Magnum is a reliable and durable polymer magazine for .300 Winchester Magnum based family of cartridges and is compatible with long action AICS-spec bottom metal, to include the Bolt Action Magazine Well 700L for the Hunter 700L Stock. Made in the USA.
Built using M3 technology, this magazine is advanced in both material and manufacturing processes providing an economical, lightweight, durable and reliable bolt action magazine.
The dot matrix marking system on Magpul's line of AR15 magazines are intended for users to mark out alphanumeric characters on their mags in a standardized, modern, customizable way. These magazines offer four 3 x 5 matrices on each side of the magazine. If each matric is used for 1 alphanumeric character, this allows for 8 individual characters to be written on a single magazine. Pistol magazines, like their Glock 9mm line, offer only two 3 x 5 matrices per mag.
Caliber: .300WM
Platform: Bolt-Action
Capacity: 5 rounds
Finish: Black
Material: Polymer
Fits: Long action AICS (Accuracy International Chassis Systems) pattern bottom metal and Magnum cartridges built on a 0.530" belted case head such as .300 Winchester, .257 Weatherby, .264 Winchester, .270 Weatherby, 7mm Remington, .300 H&H, .338 Winchester, and others
Features:
Accepts a cartridge overall length of up to 3.50"
Next-generation impact and crush resistant polymer construction
Self-lubricating follower for increased reliability
Long life stainless steel spring
Paint pen dot matrix panels on the bottom of the body to allow for identification marking
Flared floorplate aids magazine handling and is easy to disassemble for maintenance
NOTE: NOT compatible with .404 Jeffery based cartridges and its derivatives such as the Remington Ultra Magnums (RUM/RSAUM) and Winchester Short Magnums (WSM/WSSM)