Mec-Gar Beretta 92 M9 Series 9mm 10 Round Magazine - Blued
---
---
---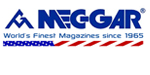 Manufacturer MPN:

Mec-Gar MGPB9210B
UPC:
765595112001
Weight:
1.00
pounds
Check Restrictions
---
---
Product Description
Beretta 92 9mm Luger 10-Round Steel Magazine

Reliable Performance and Exceptional Quality Upgrade your Beretta 92 with the MEC-GAR 10-round steel magazine, exclusively available at Galati International. This magazine is specifically designed for the Beretta 92, chambered in 9mm Luger, and offers reliable performance and exceptional quality.
Specifications:
Caliber: 9mm
Capacity: 10 rounds (Double stack)
Finish: Blued
Material: Steel
Floorplate Type: Flush Fit
Floorplate Material: Polymer
Floorplate Color: Black
Fits: Beretta 92 and M9 Series of Pistols: 92FS, 92G, 92X, and M9A1
Will NOT fit Beretta Storm or Beretta 92s Pistols with the "Heel" magazine release.
Capacity:

The 10-round capacity allows for extended shooting sessions without the need for frequent reloading, ensuring uninterrupted range or field time.

Steel Construction:

Crafted from high-quality steel, this magazine is built to withstand rigorous use and provide long-lasting durability.

Smooth Feeding:

The MEC-GAR magazine ensures smooth and reliable feeding, minimizing the risk of misfires or jams during critical moments.

Blue Finish:

The sleek blue finish adds a touch of style to your Beretta 92, while also offering enhanced resistance against wear and corrosion.
MEC-GAR is renowned for its commitment to producing top-quality magazines. With decades of experience, MEC-GAR has established itself as a trusted brand among firearms enthusiasts worldwide. Their magazines are known for their reliability, durability, and impeccable craftsmanship.
Don't settle for subpar performance. Enhance your shooting experience with the MEC-GAR 10-round steel magazine for the Beretta 92. Shop now at Galati International and enjoy the confidence of owning a magazine that delivers consistent performance and lasting quality.