Wilson Combat ETM FS Lo-Profile .45 ACP 8 Round Magazine - Black
---
---
---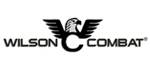 Manufacturer MPN:

Wilson Combat 500BC
UPC:
874218006266
Weight:
0.50
pounds
Check Restrictions
---
---
Product Description
1911 ETM Full-Size .45 ACP 8 Round Magazine - Black - Steel Base Pad
Caliber: .45 ACP
Capacity: 8 rounds
Finish: Black
Material: 17-7 PH steel
Base pad: Lo-Profile EMT Steel (removable)
Fits: 1911 Full Size Pistols
Wilson Combat magazines increase reliability in all 1911 pistols. The aircraft grade certified stainless-steel tube resists corrosion. These magazines have the thickest tube walls in the industry at .025" manufactured from 17-7 PH stainless steel. All tubes are heat-treated for maximum durability and service life.
The ETM's new almost indestructible base pad provides a sure grip when pulling a magazine from a pistol or a tight pouch - especially in a combat or competitive situation when seconds count in reloading. If you have ever been in the rain, trying to get a traditional magazine from a wet, tight pouch, you'll really appreciate this feature - and it might save your life.
The ETM (Elite Tactical Magazine) has the strongest magazine tube yet developed, virtually eliminating feed lip cracking, tube spread and cracking, and general fatigue. It has a longer body to allow for less compression on the magazine spring with no appreciable difference in size compared to a typical magazine.
The redesigned tube with a small front ramp prevents nose down feeding with short or hollow point rounds. It also features a redesigned back spacer that accommodates a wide variety of long-loaded ammunition.
The fiber-fill nylon self-lubrication follower provides smooth round feeding. The heavy-duty maximum tensile strength spring provides a long service life and enhanced feeding and position slide stop operation.
This magazine has a black fluoropolymer finish for subdued carry.
Selecting the Correct 1911 Magazine:
If the grips on your 1911 measure 4" to 4-1/4" long, you have a Government/Commander length grip.
If the grips on your 1911 measure 3-1/2" long, you have an Officer/Defender length grip.
Please check grip length before ordering.