PMAG Gen M3 AR15 M4 5.56x45 20 Round Polymer Magazine - Black - Magpul
---
---
---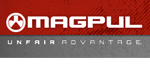 Manufacturer MPN:

Magpul MAG560BLK
UPC:
873750007915
Weight:
0.50
pounds
Check Restrictions
---
---
Product Description
The PMAG 20 GEN M3 is a 20-round 5.56x45 NATO (.223 Remington) polymer magazine for AR15/M4 compatible weapons. Along with expanded feature set and compatibility, the GEN M3 incorporates new material technology and manufacturing processes for enhanced strength, durability, and reliability to exceed rigorous military performance specifications. Made in U.S.A.
Modified internal and external geometry also permits operation with a wide range of non Colt-spec platforms such as the HK 416 and MR556A1, M27 IAR, British SA-80, FN SCAR MK 16/16S, and others. A redesigned bolt catch notch in the rear of the magazine provides increased bolt catch clearance, while an over-travel stop on the spine helps ensure the magazine will not over-insert on compatible weapons.
The PMAG 20 GEN M3 features a long-life USGI-spec stainless steel spring for commonality, four-way anti-tilt follower and constant-curve internal geometry for reliable feeding, and simple tool-less disassembly to ease cleaning. In addition, an included pop-off Impact/Dust Cover can optionally be used to minimize debris intrusion and protect against potential damage during storage and transit. Low profile ribs and new aggressive front and rear texture gives positive control of the GEN M3 in all environments, and a paint pen dot matrix has been added to the bottom panel of the body to allow easy marking by the end user for identification. The new, easy to disassemble flared floorplate aids extraction and handling of the magazine while providing improved drop protection, but is slightly slimmer than before for better compatibility with tight double and triple magazine pouches.
The dot matrix marking system on Magpul's line of AR15 magazines are intended for users to mark out alphanumeric characters on their mags in a standardized, modern, customizable way. These magazines offer four 3 x 5 matrices on each side of the magazine. If each matric is used for 1 alphanumeric character, this allows for 8 individual characters to be written on a single magazine. Pistol magazines, like their Glock 9mm line, offer only two 3 x 5 matrices per mag.
Caliber: 5.56x45 NATO / .223 Rem
Capacity: 20 rounds
Finish: Black
Material: Polymer
Fits: AR15/M4 platforms, HK 416 and MR556A1, M27 IAR, British SA-80, FN SCAR MK 16/16S, Sig Sauer 516 and 556.