M1A M14 .308 Win 50 Round Drum - Black - ProMag Archangel
---
---
---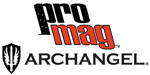 ProMag DRM-A2
UPC:
708279014659
Weight:
4.00
pounds
Check Restrictions
---
---
Product Description
The Springfield Armory M1A/M14 .308 50 round drum from ProMag is constructed of DuPont Zytel based polymer The upper tower has full length steel internal insert stamped and welded like the factory magazine
It has an Injection molded magazine follower and over molded steel feed lips and magazine catch. The magazine spring is formed from heat-treated stainless-steel.
Caliber: .308 Win
Capacity: 50 rounds
Finish: Black
Material: DuPont Zytel based polymer
Fits: Springfield Armory M1A/M14
ProMag magazines are made in the USA and backed by a lifetime guarantee against manufacturer's defects. Each step of the assembly process is checked and double checked to maintain the same consistent level of quality.