Mec-Gar Luger P.08 9mm 8 Round Magazine - Blued
---
---
---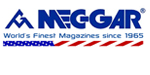 Manufacturer MPN:

Mec-Gar MGLUGP08B
UPC:
765595106000
Weight:
0.50
pounds
Check Restrictions
---
---
Product Description
Luger P-08 9mm 8-Round Standard Steel Magazine - Blue
Upgrade your Luger P-08 with the Mec-Gar Magazine, a reliable and high-quality accessory. This 8-round standard steel magazine in a striking blue color is designed specifically for 9mm caliber handguns. With its superior construction and performance, it's an essential addition to your firearm.
Crafted with precision and durability in mind, this Mec-Gar Magazine ensures smooth feeding and consistent performance. Its 8-round capacity offers improved concealability and a slimmper profile compared to higher-capacity counterparts. This makes it an ideal choice for concealed carry purposes, ensuring your firearm remains discreet and comfortable for everyday use.
The standard steel construction of this magazine guarantees longevity and reliability, ensuring it can withstand the demands of regular use. The blue finish not only adds a touch of style but also provides corrosion resistance, further enhancing its durability.
Designed for ergonomics and ease of use, this magazine offers a comfortable grip and effortless magazine changes. The reliable feeding mechanism reduces the risk of malfunctions, providing you with the confidence to focus on your shooting skills.
Key Features:
Designed for Luger P-08 9mm handguns
8-round standard steel magazine
Smooth feeding and consistent performance
Blue finish for added style and corrosion resistance
Ergonomic design for comfortable handling and quick magazine changes
Key Specifications:
Caliber: 9mm
Capacity: 8 rounds
Finish: Blued
Material: Steel
Floorplate Type: Flush Fit
Floorplate Material: Polymer
Floorplate Color: Black
We have been advised by customers, that this will also fit the following, but we cannot guarantee this information: DWM P.08, 42 code 1939 Kaiser P08, 1913 Erfurt Luger, 1917 Artillery Luger, 1970 Mauser/Interarms Luger, 1916 Mauser, 1941 Black Widow.
Order your Mec-Gar Magazine for the Luger P-08 9mm now and enhance your shooting experience. With its superior construction and reliable performance, this magazine is a must-have accessory for Luger P-08 owners. Elevate your shooting capabilities with increased ammunition capacity and functionality.