AR-15 .223 5.56 100 Round Drum Magazine Clear Cover - RWB Red White & Blue
---
---
---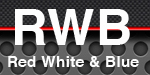 Manufacturer MPN:

Red White & Blue AR15100
UPC:
8809705570007
Weight:
6.00
pounds
Check Restrictions
---
---
Product Description
Dual Polymer 100rd Drum with Clear Cover for the AR15.


This is an after-market magazine of quality construction and reliable performance from Red, White, and Blue. It has a heavy-duty polymer construction. It is easy to load with integral spring tension releasing cam. It includes a polymer magazine loader and a black carry pouch, but no lube. The magazine loader can be stored in the pouch on the side of the carry case. The carry pouch has a quick snap buckle for quick access. There is a removable cover on the magazine feed lip. Made in Korea
This is a bolt hold open magazine, when the last round is fired the bolt will stay open.
Caliber: .223 Rem / 5.56mm NATO
Capacity: 100 rounds
Material: Polymer
Fits: AR-15
Finish: Black with Clear front cover
When loading your new 75 or 100 round type drum magazines,
you must load the magazine to the maximum number of rounds that the magazines are designed to hold
. Failure to do so could result in permanent damage to your new magazines and may void any warranty.