AK-47 75 Round Steel Drum Magazine - Red White & Blue
---
---
---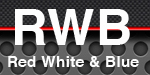 Manufacturer MPN:

Red White & Blue AK4775
UPC:
None
Weight:
2.45
pounds
Check Restrictions
---
---
Product Description
75 round steel drum magazine for the AK-47.
Instructions for loading AK-47 75 Round Steel Drum Magazine
Step 1 – Unlatch and open drum cover. Make sure mainspring is not under tension and follower is up inside the tower.
Step 2 – Depress center button to release spring tension.
Step 3 – Rotate the feed wheel until the follower is positioned at approximately 2 o'clock direction.
Step 4 – Load the first 3 rounds into the outside snail track.
Step 5 – Apply counter clockwise pressure, pushing the first 3 rounds into the magazine tower.
Step 6 – Rotate the feed wheel clockwise until the follower is located at about 11 o'clock position(3rd track) and rotation stops.
Step 7 – Load all remaining 72 rounds in the drum by filling the snail track in between the feed paws.
Step 8 – Close the drum cover and lock the two latches.
Step 9 – Wind the mainspring clockwise about 3 rotations. Do not over tighten the spring as this will cause wear or breaking to the main spring.
Warning: The above procedure should only be used when loading the magazine to its full capacity. If the user intends to load only a partial magazine, the magazine follower must be directly behind the last round. If there is a gap between the follower and the last round, the drum may be damaged during firing.