AK-47 7.62x39 75 Round Steel Drum Magazine - RWB Red White & Blue
---
---
---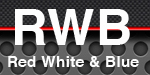 Manufacturer MPN:

Red White & Blue AK75
UPC:
8809724650025
Weight:
2.45
pounds
Check Restrictions
---
---
Product Description
AK47 7.62x39 75 Round Steel Drum Magazine - RWB Red White & Blue
Provides plenty of ammo space without having to switch magazines or reload.
This high capacity 75 round steel drum magazine is brand new. Rear-loading. Made in South Korea. AfterMarket
Caliber: 7.62 x 39
Capacity: 75 rounds
Material: Steel
Fits: AK-47
When loading your new 75 or 100 round type drum magazines, you must load the magazine to the maximum number of rounds that the magazines are designed to hold. Failure to do so could result in permanent damage to your new magazines and may void any warranty.
Instructions for AK-47 75 Round Steel Drum Magazine
Step 1 - Unlatch and open drum cover. Make sure mainspring is not under tension and follower is up inside the tower.
Step 2 - Depress center button to release spring tension.
Step 3 - Rotate the feed wheel until the follower is positioned at approximately 2 o'clock direction.
Step 4 - Load the first 3 rounds into the outside snail track.
Step 5 - Apply counter clockwise pressure, pushing the first 3 rounds into the magazine tower.
Step 6 - Rotate the feed wheel clockwise until the follower is located at about 11 o'clock position(3rd track) and rotation stops.
Step 7 - Load all remaining 72 rounds in the drum by filling the snail track in between the feed paws.
Step 8 - Close the drum cover and lock the two latches.
Step 9 - Wind the mainspring clockwise about 3 rotations. Do not over tighten the spring as this will cause wear or breaking to the main spring.
Warning: The above procedure should only be used when loading the magazine to its full capacity. If the user intends to load only a partial magazine, the magazine follower must be directly behind the last round. If there is a gap between the follower and the last round, the drum may be damaged during firing.
Galati International is NOT the manufacturer of Red, White, and Blue (RWB) magazines.