SKS 75 Round Drum Magazine 7.62X39 - RWB
---
---
---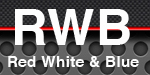 Manufacturer MPN:

Red White & Blue SKS75
UPC:
8809724650070
Weight:
7.00
pounds
Check Restrictions
---
---
Product Description
This is an after-market Drum Magazine from Red, White, and Blue for SKS Rifles chambered in 7.62x39mm. This is not a factory magazine.
Designed to fit SKS style rifles chambered in 7.62 X 39, this 75 round Drum Magazine provides reliability and smooth feeding. The magazine feeds from a central column, resulting in a fixed gravity center while firing.
These 75-round steel drum magazines load from the back, so you don't have to insert rounds under tension. Store indefinitely at the full 75 round capacity with no tension on the spring. When ready for use, twist the central crank to provide proper spring tension.
This magazine is not designed to be used with hollow point ammo.
Caliber: 7.62x39mm
Capacity: 75 rounds
Finish: Black
Material: Steel
Fits: SKS Rifles
Warranty VOIDED if customer disassembles magazine.
Note: Galati International is NOT the manufacturer of Red, White, and Blue (RWB) magazines.