50 Round Magazine for Glock 9mm and Kel-Tec - RWB Red White & Blue
---
---
---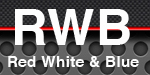 Manufacturer MPN:

Red White and Blue G9mm
UPC:
8809705570090
Weight:
4.00
pounds
Check Restrictions
---
---
Product Description
This is an after-market magazine from Red, White, and Blue for Glock 9mm. Simply move the cam, drop in a round and repeat until magazine is full of 50 rounds of 9mm ammunition. Drop-free magazines are fully metal lined. Heavy duty, polymer drum magazine is easy to load with integral spring tension releasing cam. Made in Korea.
Caliber: 9mm
Capacity: 50 rounds
Finish: Black
Material: Polymer
Fits: Glock 9mm Luger Firearms, Kel-Tec SUB 2000 9mm Luger, Lone Wolf AR-15 9mm Carbine
Note: Galati International is NOT the manufacturer of Red, White, and Blue (RWB) magazines.
DISCLAIMER: "GLOCK" is a federally registered trademark of GLOCK, Inc. and is one of many trademarks owned by GLOCK, Inc. or GLOCK Ges.mbH. Neither Galati International nor this site are affiliated in any manner with, or otherwise endorsed by, GLOCK, Inc. or GLOCK Ges.mbH. The use of "GLOCK" on this page is merely to advertise the sale of GLOCK pistols, parts, or components. For genuine GLOCK, Inc. and GLOCK Ges.mbH products and parts visit www.glock.com.