29 Round .40 S&W Magazine for Glock 22 23 27 - Red White and Blue
---
---
---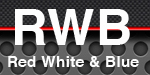 Manufacturer MPN:

Red White and Blue GC.40
UPC:
None
Weight:
0.50
pounds
Check Restrictions
---
---
Product Description
Fits all Glock .40 S&W including the Glock 22, 23 and 27.

Increase your firepower potential without blasting a huge hole in your budget. Small holes to reveal how many rounds are left. This magazine is made of black Zytel with a metal liner so it will not wear on the pistol's magazine release. Will extend below grip approximately 6". This is not a factory magazine. Springs are tight so loading first few rounds may be tough. May need a loader/unloader tool.

DISCLAIMER: "GLOCK" is a federally registered trademark of GLOCK, Inc. and is one of many trademarks owned by GLOCK, Inc. or GLOCK Ges.mbH. Neither Galati International nor this site are affiliated in any manner with, or otherwise endorsed by, GLOCK, Inc. or GLOCK Ges.mbH. The use of "GLOCK" on this page is merely to advertise the sale of GLOCK pistols, parts, or components. For genuine GLOCK, Inc. and GLOCK Ges.mbH products and parts visit www.glock.com.