26 Round Magazine for Glock 21 30 .45 Cal - RWB Red White & Blue
---
---
---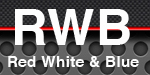 Manufacturer MPN:

Red White and Blue G45
UPC:
8809705570083
Weight:
0.50
pounds
Check Restrictions
---
---
Product Description
This is an after-market .45 caliber composite magazine of quality construction and reliable performance from Red, White, and Blue. It has a metal construction inside with a polymer outside. Increase your firepower potential without blasting a huge hole in your budget.
This magazine has small holes to reveal the number of rounds left. These are brand-new magazines and as such, the springs are tight, so loading the first few rounds may require a loader/unloader tool. This magazine is designed to fit a double-stack design
Caliber: .45
Capacity: 26 rounds (double-stack design)
Material: Metal/Polymer
Fits: Glock 21 and 30
**Will NOT fit the Glock 36 because it is a slimline design.
Note: Galati International is NOT the manufacturer of Red, White, and Blue (RWB) magazines.
DISCLAIMER: "GLOCK" is a federally registered trademark of GLOCK, Inc. and is one of many trademarks owned by GLOCK, Inc. or GLOCK Ges.mbH. Neither Galati International nor this site are affiliated in any manner with, or otherwise endorsed by, GLOCK, Inc. or GLOCK Ges.mbH. The use of "GLOCK" on this page is merely to advertise the sale of GLOCK pistols, parts, or components. For genuine GLOCK, Inc. and GLOCK Ges.mbH products and parts visit www.glock.com.