Mec-Gar 1911 Full-Size .45 ACP 8 Round Magazine - Nickel
---
---
---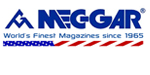 Manufacturer MPN:

Mec-Gar MGCG4508PFN
UPC:
765595103900
Weight:
1.00
pounds
Check Restrictions
---
---
Product Description
Mec-Gar 1911 Government/Commander 8-Round Magazine (Nickel) - Galati International
Technical Specifications:
Caliber: .45 ACP
Capacity: 8 rounds
Finish: Nickel
Material: Steel
Floorplate Type: Flush Fit
Floorplate Material: Polymer
Floorplate Color: Black
Fits: 1911 Full Size Firearms: Commander and Government, Colt, Kimber, Springfield, S&W, Sig GSR and other 1911 style manufactured pistols, and Para Expert Carry
We have been advised by customers, that this will also fit the following, but we cannot guarantee this information: 1911 Tisas, Ruger SR 1911, Springfield, Kimber, or Christensen, RIA 1911, Sig Sauer SS 1911, S&W 1911, Magnum Research 1911.
Introducing the Mec-Gar 1911 Government/Commander 8-Round Magazine in a sleek nickel finish. Designed to enhance your shooting experience, this premium magazine is a perfect upgrade for your 1911 Government or Commander pistol. Galati International is proud to offer this top-quality firearm accessory to firearms enthusiasts and professionals alike.
Key Features:
1. Enhanced Performance: The Mec-Gar 1911 magazine is precision-engineered to ensure reliable feeding and smooth operation, providing enhanced performance during shooting sessions.
2. Increased Capacity: With an 8-round capacity, it allows you to carry more ammunition, minimizing the need for frequent reloads and keeping you focused on the target.
3. Durable Construction: Crafted from high-quality materials, this magazine is built to withstand the rigors of regular use, ensuring long-lasting durability and reliability.
4. Stylish Nickel Finish: The nickel-plated surface not only enhances the aesthetic appeal of your 1911 Government or Commander pistol but also provides added resistance against corrosion and wear.
5. Easy Installation: Designed for hassle-free installation, this magazine can be quickly and securely attached to your existing magazine, allowing you to spend more time on the range and less time on maintenance.
Upgrade your 1911 Government or Commander pistol with the Mec-Gar 1911 Government/Commander 8-Round Magazine in nickel finish today. Galati International is your trusted source for high-quality firearm accessories. Order now and take your shooting experience to the next level!