Wilson Combat 1911 .45 ACP 8 Round Ext Magazine - Stainless
---
---
---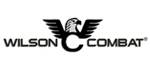 Manufacturer MPN:

Wilson Combat 47DE
UPC:
874218002602
Weight:
0.50
pounds
Check Restrictions
---
---
Product Description
1911 Full-Size Government .45 ACP 8 Round Magazine - Stainless - Extended Base Pad
Caliber: .45 ACP
Capacity: 8 rounds
Finish: Stainless
Material: 17-7 PH steel
Base pad: Extended .625" plastic (removable)
Fits: 1911 Full Size Pistols
Colt Government Model
Enhanced Model
Springfield Armory 1911 A1
Military 1911/1911 A1
Auto Ordnance 1911 A1
Norinco 1911 A1
Caspian 1911 A1
Wilson 1996 A2
Colt Commander
LW Commander
Combat Commander
1991 A1 Commander
Detonics ServiceMaster
Springfield Armory Champion 1911 A1
Champion Mil-Spec
Safari Arms Matchmaster
Colt Gold Cup
AMT Hardballer
Colt Double Eagle
Wilson Combat magazines increase reliability in all 1911 pistols. The aircraft grade certified stainless-steel tube resists corrosion. These magazines have the thickest tube walls in the industry at .025" manufactured from 17-7 PH stainless steel. All tubes are heat-treated for maximum durability and service life.
The fiber-fill nylon self-lubrication follower provides smooth round feeding. The heavy-duty maximum tensile strength spring provides a long service life and enhanced feeding and position slide stop operation.
The Extended .625" Plastic base pad is removeable for easy maintenance and versatility with different base pad options. No other .45 magazine can compare for proven inherent reliability, durability, and the ability to remain fully loaded for long periods of time without damage.
Selecting the Correct 1911 Magazine:
If the grips on your 1911 measure 4" to 4-1/4" long, you have a Government/Commander length grip
If the grips on your 1911 measure 3-1/2" long, you have an Officer/Defender length grip
Please check grip length before ordering