1911 .45 cal 15 Round Steel Magazine - Red White & Blue
---
---
---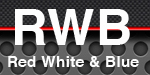 Manufacturer MPN:

Red White & Blue 191115
UPC:
None
Weight:
0.50
pounds
Check Restrictions
---
---
Product Description
This is a 1911 .45acp 15 round steel magazine.
After-market magazines of quality construction and reliable performance. Durable steel construction with polymer baseplate. Compatible with mil-spec full-size and commander variants.
Fits most 1911 .45 ACP handguns. Not advertised by manufacturer, but we have been told by customers it can be modified to work with .45acp Hi Point as well. Will not fit the ATI Firepower Xtreme.