AR15 .410 Upper Receiver Assembly - International Firearm Corporation
---
---
---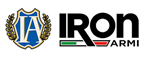 Manufacturer MPN:

International Firearm Corporation 410UPPER
UPC:
711356774472
Weight:
12.00
pounds
Check Restrictions
---
---
Product Description
Convert your AR-15 platform rifle into versatile .410 Bore Shotgun with an Iron Armi Complete Upper Receiver Assembly.

This 410ARUM upper allows any AR15 to be converted to a .410 shotgun. The 410ARUM features a flattop aluminum upper receiver, an 18 1/2" barrel, chambered in 2 1/2" .410 gauge and a standard A2 handguard. It has front and rear flip up sights, one 10 round polymer magazine and a machined aluminum fore end. This gas operated upper will mount to any standard .223/5.56 AR-15 lower receiver. Includes bolt and carry handle. Gas operated.
Manufacturer recommends the following ammunition:
Remington Game Loads 2.5"
Remington Express Long Range 2.5"
Remington Premier STS 2.5"
Federal Personal Defense Handgun 2.5"
Federal High Brass 2.5" 1/2 ounce
Hornady Critical Defense .410 2.5"
Monarch .410 2.5"