AR .308 High Cap 50 Round Drum Magazine Made In The USA - X Products
---
---
---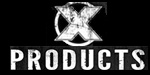 Manufacturer MPN:

X Products X-25
UPC:
None
Weight:
4.90
pounds
Check Restrictions
---
---
Product Description
Serious firepower in a small package. The X-25 is a .308 caliber 50 round single stack compact drum designed for AR .308 SR/25 rifles.
The magazine easily loads and unloads by operating the front hand wheel. Designed to operate in automatic and semiautomatic applications, it employs a larger hand-wheel and double spring for increased reliability. Unique to this magazine's design is a patent pending feed device that allows the magazine to run massive spring pressures without effecting the firearm's bolt operation. The durable body is constructed entirely of aluminum; and finished in a friction reducing ceramic coating. All internal and operating assemblies are made of black oxide steel and aluminum. Comes with a lifetime warranty and includes an instruction manual. Please note: That with the wide variance in receiver specs there may need some slight fitting in order to work properly. Please read the owner's manual before use.
Compatible with: DPMS Bushmaster POF C-Products Fulton Knights JP Rifles Remington R-25 PWS LWRC Sig Sauer 716 Other models that take the Magpul P20LR style .308 magazine Will fit basically all .308 AR15's that take SR-25 magazines and have A4/M4 feed ramps, with exception of the AR10 style firearms. Will not fit the Handl lower modified for the Scar 17 to accept the AR 25 magazines.