AR-15 .223 High Cap 50 Round Drum Magazine Made in USA - X Products
---
---
---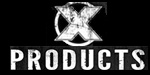 Manufacturer MPN:

X Products X-15
UPC:
None
Weight:
4.90
pounds
Check Restrictions
---
---
Product Description
The most compact and versatile 50 round magazine ever produced for the AR-15 in 5.56x45/.223 and 300 AAC Blackout full length.
Built entirely of 6061 billet aluminum, there are zero plastic parts. The fully enclosed magazine will operate in the most demanding of operations. The compact design is based on proven coil magazine technology, which allows side by side staging of ammo in a single stack. The streamlined design allows for no separation of ammunition during function and prevents malfunction. Based on patent pending design that allows for unlimited spring loads for high rate of fire weapons, it will easily operate up to 1100 rounds per minute. The profile is shorter than a standard 30 round magazine and 4-5 inches shorter than a Surefire quad stack magazine. User friendly ergonomics and the ability to use your sling makes this the choice magazine for 3 gun competitors. Coated in Cerakote for friction reduction and proven reliability without using lubrication, and given a lifetime warranty.
Manufactured in the USA, fit's most mill spec standard M16/AR-15 rifles, Bushmaster ACR, and Stanang Rifles with improved M4 feed ramps. Not compatible with IMI TAVOR, ROBINSON ARMS XCR and Scar 16 due to the square bolt carrier. Compatibility: AR-15 / M-16 / M4 M249 / SAW / FN MINIMI Steyr Aug/Microtech Bullpup ACR All rifles with M4 cut feed ramps *May not work with standard rifle ramps.